Rachel Dolezal II? The Case of Shaun King
A prominent leader of the Black Lives Matter movement may have just been outed as a white man.
Shaun King, 35, has always said he was of mixed race.
So far, he's gained a huge Twitter following, success as a justice columnist for the social progressive website the Daily Kos and has been awarded a full-ride college scholarship to Morehouse by none other than Oprah Winfrey.
But according to recent findings by Breitbart, King isn't Black at all.
An investigative blogger has accused King of misleading Winfrey by pretending to be biracial in order to qualify for the scholarship. The blogger says King has been lying about his ethnicity for years.
King, who is a high-profile campaigner against police brutality, told Rebel magazine in 2012 that he was biracial, the outlet reports. Rebel reported that he was the son of an African American father and Caucasian mother. He has also described himself as "mixed with a Black family" on Twitter.
King is a known figure in the realm of social activism. He's written extensively about his childhood, which he describes as one where he was terrorized by "decades old racial tensions."
King said he was the focus of constant abuse from the "resident rednecks" at his school.
But in recent weeks, rumors of King not being Black have been circulating. A 1995 incident report lists Shaun King's ethnicity as white. Blogger Vicki Pate has been assembling forensic accounts of King's background and family tree on her site "Re-NewsIt!"
Pate claims that King is white and says a birth certificate names a white man as his father. Breitbart claims to have independently acquired the document from the Kentucky Office of Vital Statistics.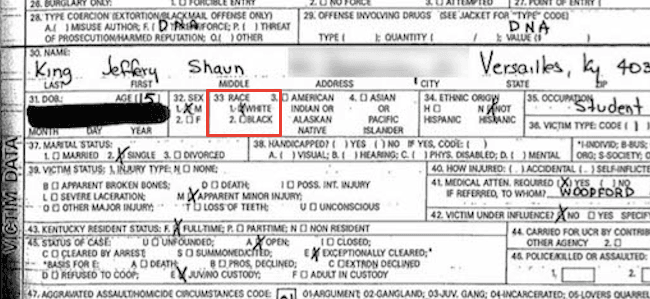 King's case is similar to that of Rachel Dolezal, a Washington-based civil rights activist who claimed to be biracial. It was discovered that Ms. Dolezal, who served as the president of the local chapter of the NAACP, was actually white.
Dolezal maintains that she is Black despite being exposed.
Oh brother.
Check back for updates.