'Michael Brown Bonus' Prompts Investigation
St. Louis County police are investigating a Facebook comment where one of their officers appears to brag about the extra income he made while working during the Ferguson protests.
Officer Todd J. Bakula posted a questionable social media post to his account recently about extra money earned last week due to protests happening in St. Louis. The demonstrations have been taking place in recognition of the 1-year anniversary of the slain teen's death.
"I decided to spend my annual Michael Brown bonus on a nice relaxing bicycle ride trip to Defiance," the officer reportedly wrote under the moniker TJ Thekoola. "Eating dinner now and staying at a bed and breakfast tonight."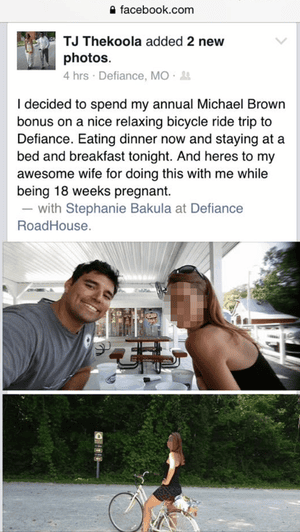 St. Louis County police Media Relations Officer Shawn McGuire confirmed to the Guardian by email that Bakula is a patrolman with the St. Louis County police department and that the department is taking the matter serious.
"We understand the post is controversial," McGuire said. "The St. Louis County police department takes these allegations very serious in every case. The remarks on the Facebook page will be investigated by our department."
According to the St. Louis Business Journal, response in the wake of Brown's August 2014 killing cost St. Louis County a reported $4 million, including "$2.5 million in overtime for police work."
The South County Times reported that by January, St. Louis County police had "put in 121,935 hours of work since the shooting, which amounts of $3.9 million in overtime costs and $1.2 million in fringes."