"Comic" Tweets Racist, Sexual Fantasies About First Take Host
Sigh.
Where to begin?  It seems we have a wildly unfunny comic with some serious problems among our social media citizenry.
Artie Lange– whom I admittedly had to run through IMDB to recall his "work" which includes appearing in "Boat Trip" and the equally regrettable "Dirty Work"–found himself turned on by First Take Host Cari Champion.
His arousal led to some extremely dark and disgusting Tweets that were captured by Complex magazine.  Warning, these are NSFW… Hell, they aren't safe for anywhere.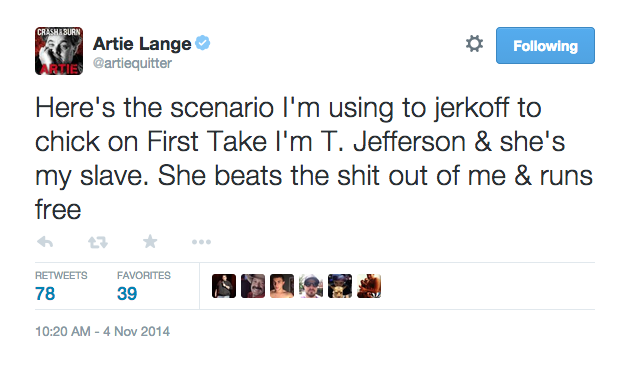 This is absolutely revolting, unacceptable and whomever favorited it also needs an intervention.  It's a sad thing that the calendar is 2014, but we still have a man who has the audacity to be sexually excited by a beautiful Black woman only in the context of slavery and confining her to serve his purpose.  We do, however, like the part of his dream where she beats him.  Yeah, we said it.
More of his revolting commentary HERE.  And the consequences of being a fool HERE.