Artist's Exhibit Mourns Walter Scott
There's a new art exhibit in Baltimore that is grabbing everyone's attention.
Artist Loring Cornish is mourning the death of 50-year-old Walter Scott, an unarmed black man who was gunned down by a North Charleston, South Carolina police officer a couple of weeks ago.
And he's doing so through a controversial exhibit that features dolls hanging from trees.
"I am in mourning for all of the black men that are dying needlessly, and the United States of America is doing nothing about it. And it seems like we can do nothing about police brutality," Cornish told WBAL-TV.
Cornish said he felt the need as an artist to do something. So he shut down his gallery and took his exhibit to the streets.
Residents who have viewed the exhibit have mixed reactions to it.
"I, personally, think it's a bit loud," Michael Scott said. "I think it's a bit much, but it definitely is getting the message across."
Resident Jonathan Esters feels the exhibit is necessary.
"I think everybody should wake up to it, because that's what's happening," he told WBAL-TV. "It's happening everywhere, but the thing about it is that it's been going on. It's just now coming to TV."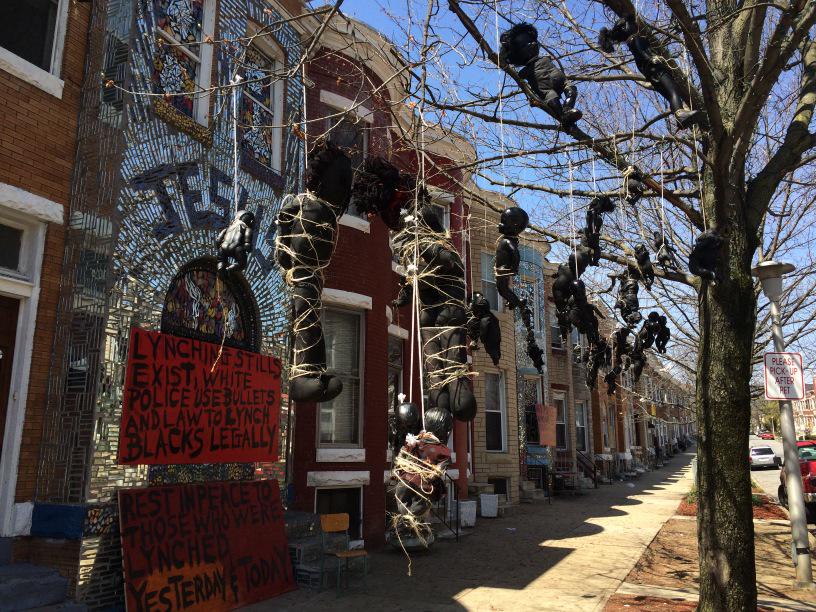 In addition to the dolls hanging from trees who are meant to represent black men killed by police, signs are also present. The words on them represent outrage felt by Cornish in response to the killings.
"I hung them from the tree to let people visually see what we feel. We're feeling this. This is not something we should just gloss over. We're actually feeling death in our community," Cornish said. "We are being lynched, killed, and murdered legally in the United States."
Cornish isn't the only artist seeking to make a statement about senseless killings that continue to affect the African American community.
In Chicago, the Illinois Counsel Against Handgun Violence commissioned, "Unforgotten," an exhibition that features statues of Chicago youth slain by gun violence. The statues were faceless, but dressed in clothes similar to what the victims would wear if they were still alive.
Unforgotten features a statue with 15-year-old Hadiya Pendleton's likeness. The honor student was slain just a week after attending President Obama's second inauguration in 2013.
#BlackLivesMatter