Did Nicki Minaj Shade Tyga in 'Feeling Myself?'
You can't believe everything that you read on the internet. People are able to disperse their philosophies, interpretations and downright rumors in a matter of seconds.
With that being said, Nicki Minaj's choice of attire in her latest video featuring Beyoncé, "Feeling Myself," is heck of a coincidence.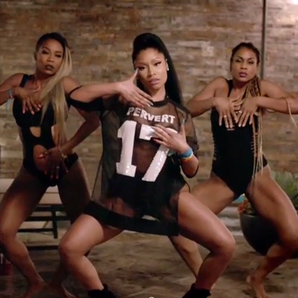 After the video's exclusive premiere on TIDAL Monday, viewers noted Minaj's jersey in one of the scenes, and accused the rapper of dissing fellow rapper Tyga:
Nicki's shirt says "Pervert 17." Could it be a shot at Tyga's questionable relationship with 17-year-old Kylie Jenner?
Maybe. But this is highly questionable given that the jersey is a Givenchy baseball tee. "Pervert 17" is also available on bags for the line too.
Sometimes rumors just need to die yal. And as one social media commentator pointed out: